Chocolate Tool Box Gifts
One-of-a-kind chocolate toolbox gift ideas for any budget! We offer a variety of chocolate gourmet toolboxes in many colors and sizes. Here at The Gift Planner, we like to ship the chocolate toolbox gifts open to wow any recipient. This beautiful toolbox gift arrives more like a gourmet gift basket and not just any standard average gift. Our chocolate toolboxes are sure to impress!

We are the industry leader in delicious gourmet themed gifts for your company! In addition, we offer a variety of toolboxes filled with delicious gourmet treats! Consider us the home of the chocolate tools. Our chocolate tools are available in milk, dark and white chocolate. We have themed chocolate tools for any industry or trade. Furthermore, we have the perfect set of chocolate tools that will highlight your company brand! Finally, customization is over the top. We will foil wrap or hand paint any chocolate tools that you would like. Using your corporate colors for hand painting and for the chocolate drizzle over a chocolate covered pretzel, or cookie makes the perfect final touch!

In the end, a chocolate toolbox gift basket that will wow anyone! Our chocolate toolboxes are the perfect themed gift for any construction company or contractor trade. It allows us to tell your story! These toolboxes will not only taste delicious, but will leave them with a toolbox that can be used after the treats are gone. These are the perfect raffle giveaway at a tradeshow or great ideas to send for a holiday gift, thank you gift or gift for any other corporate event or special occasion. Your brand is important to us and making you customer happy is just as important, but even more than that The Gift Planner is here to do all of the work, while making you look like a rock star!

We're famous for our outstanding customer service. Call your personal gift planner now at 602-526-0963.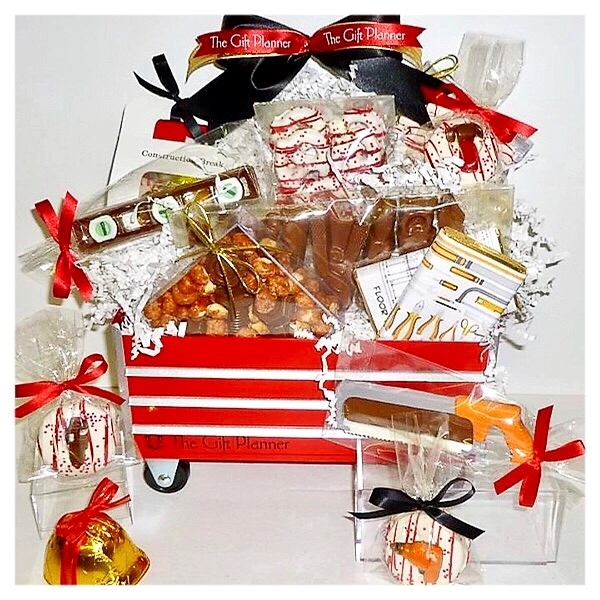 MODEL: TGP-Handy-E
This handy tool cart measures 9.5" X 4.5" X 4.5". Tool Box is filled with 3 Oreos with tools, 1 foiled 2.5" large chocolate hard hat, 1 5-oz box of "nuts and bolts" (contains 2 bolts, 3 chocolate nuts) and the rest butter toffee peanuts, 1 box (3-1/2" square box) filled with dipped pretzels, 7 chocolate themed tools, 2 (2 oz.) chocolate bars with custom wrapper options, a chocolate level and hand saw, bag of dipped chocolate graham cookies, construction themed box filled with hard candy all tied with a beautiful custom bow. Available in custom colors for quantities of 200.
Call 602-526-0963
| | |
| --- | --- |
| 1 | $104.99 |
| 25 | $103.99 |
| 50 | $102.99 |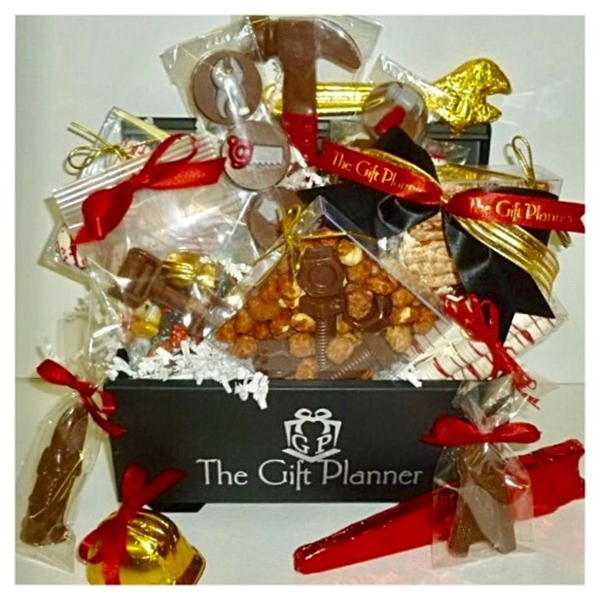 MODEL: TGP-JBG-E
Sold exclusively at The Gift Planner. Unique one of a kind tool box is perfect for any industry. Measures 8.75" x 4.5" x 4.5". Custom colors available for orders of 200 or more. Contents include pretzel bundle (6 pretzels), mini oreo box (18 cookies), chocolate graham cookie bag (6 cookies), chocolate rocks, hard hat and shovel trio, 8" foiled chocolate saw, 6" foiled chocolate wrench, chocolate hammer, 3 ounces of nuts and bolts (2 bolts and 3 nuts), 2 additional 3" assorted milk chocolate themed tools, 1 box of cinnamon toast pretzels, 6 hand painted tool sweet bites and a crsipy filled hard hat Customize this gift in your corporate colors.
| | |
| --- | --- |
| 1 | $104.99 |
| 25 | $103.99 |
| 50 | $102.99 |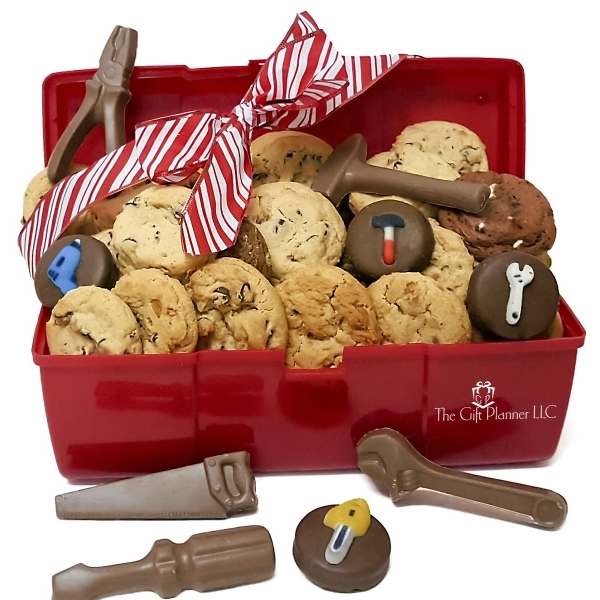 MODEL: TGP-CCC
Ships as an open gift basket and is filled with an assortment of 30 delicious chewy assorted cookies: double chocolate, chocolate chip, peanut butter, m&m, white chocolate and cinnamon, 4 decadent chocolate covered oreos with an assortment of construction themed sugar tools and 5 - 12 ounce milk chocolate construction tools in a re-usable red plastic toolbox. Measures 12 1/2" X 5 1/2" x 5" when closed, and 12 1/2" x 5 1/2" x 13 1/2" when open.
| | |
| --- | --- |
| 1 | $69.99 |
| 50 | $68.99 |
| 100 | $68.49 |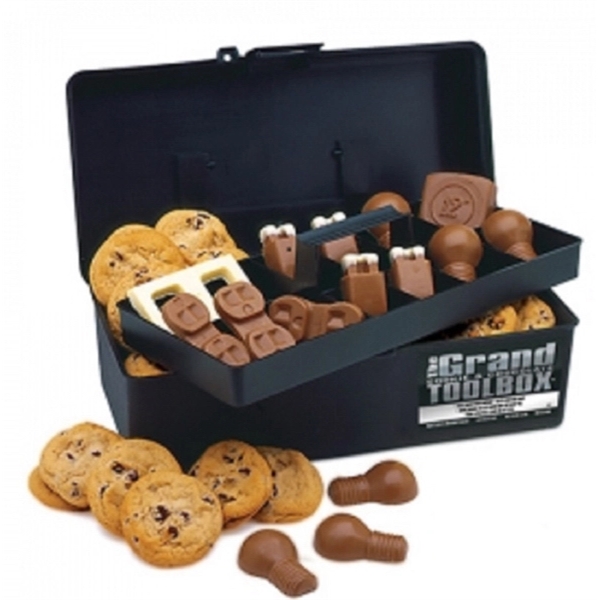 MODEL: ELECT-CTB
A jumbo molded plastic, re-usable tool box filled with one pound of delicious chewy chocolate chip cookies and 11-ounces of chocolate electrical themed tools. The perfect gift for electricians and the electrical industry!