Useful & Delicious Custom Company Themed Gifts By The Gift Planner
The Gift Planner specializes in creating and designing unique one-of-a-kind corporate business gifts! Whatever industry you work in, we can create a gift that highlights you and your company. We like to say "let us tell your story".

Our motto is useful and delicious. We create a gift using a container that is useful and related to your company and fill it with gourmet food items. Chocolate tools foiled and/or hand painted are a customer favorite, along with other company themed chocolate, cookies and nuts! Our personalization is over the top decorating using your logo, message and in your corporate colors! Call your personal gift planner today at (602) 526-0963. We would love to listen to your ideas and make your vision a reality! Let us do all of the work for you, but don't worry, we insist you take all of the credit!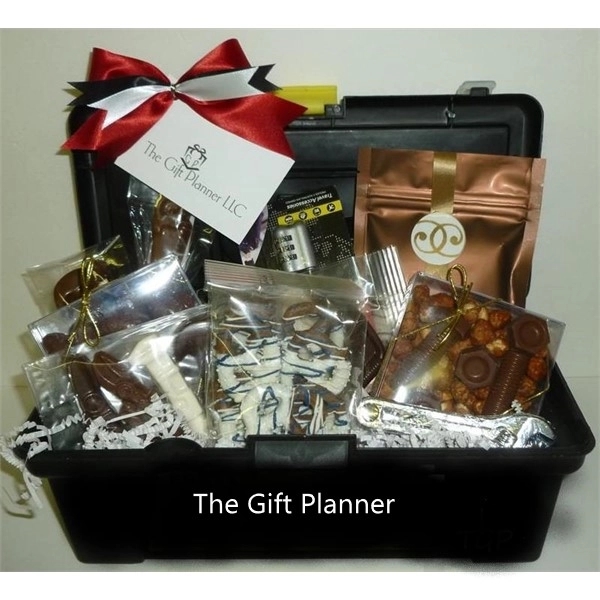 MODEL: TGP-Power-Plus
Black Plastic toolbox filled with gourmet food and snacks. An industry themed gift basket filled with chocolate tools, chocolate covered pretzels, chocolate bolts and nuts and other gourmet items perfect for any contractor or construction company! Customized using your logo, chocolate drizzle and ribbon using your corporate colors. These business gifts are perfect for company holiday gifts, corporate thank you gifts and gifts for your favorite clients! The Gift Planner can personalize these gifts and create your company the perfect gift!
| | |
| --- | --- |
| 1 | $84.99 |
| 25 | $83.99 |
| 50 | $82.99 |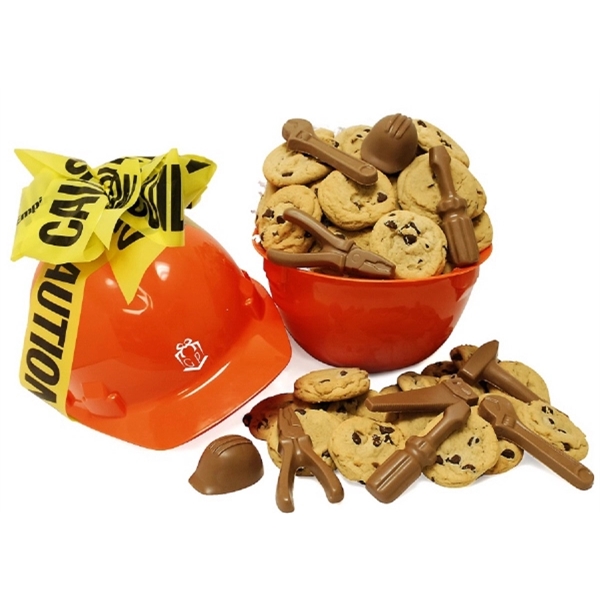 MODEL: TGP-CHH
A real hard hat gift filled with one dozen soft and chewy chocolate chip cookies and six - 2 oz. chocolate themed construction tools of the trade. Our delicious creamy molded milk chocolate construction themed chocolate pieces melt in your mouth! This construction themed hard hat gift basket is all wrapped up in cello and tied with a beautiful caution ribbon bow. The hard hat gift is perfect for any construction company, contractor, builder or handyman. Great corporate holiday gifts, client gifts thank you gifts or any other gift for any corporate event.
| | |
| --- | --- |
| 1 | $45.99 |
| 50 | $44.99 |
| 100 | $43.99 |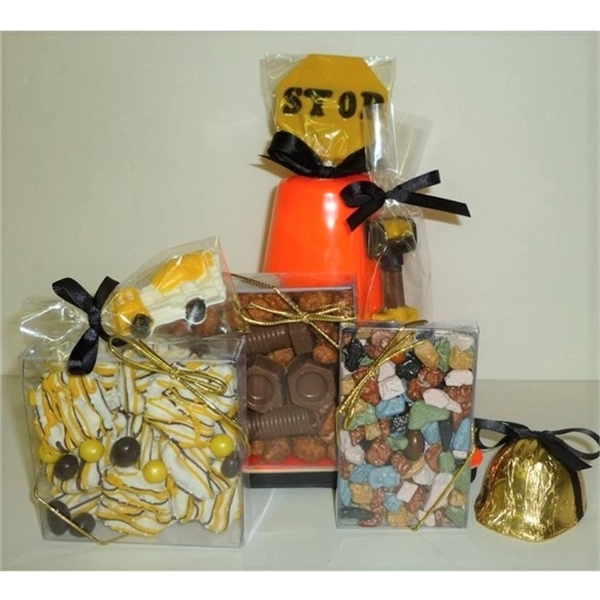 MODEL: TGP-STC
Get in the zone with a delicious chocolate gourmet construction themed safety traffic cone. The Gift Planner Chocolate Zone Construction Safety Cone comes with a 6 inch base x 6 inch high traffic safety cone, dipped pretzel box, nuts and bolts box, chocolate rocks box, foiled chocolate hard hat, cement OR dump truck, chocolate stop sign and chocolate shovel. This adorable construction themed gift can have caution ribbon or imprinted ribbon in your choice of color. Wrapped in cello and tied with any bow color you choose. Choose your bow, ribbon and edible decoration colors to match your corporate colors. This delicious and adorable gift basket makes a perfect holiday gift, thank you gift or client gift. Various imprinting options that best highlight your logo and company!
| | |
| --- | --- |
| 1 | $59.99 |
| 25 | $58.99 |
| 50 | $57.99 |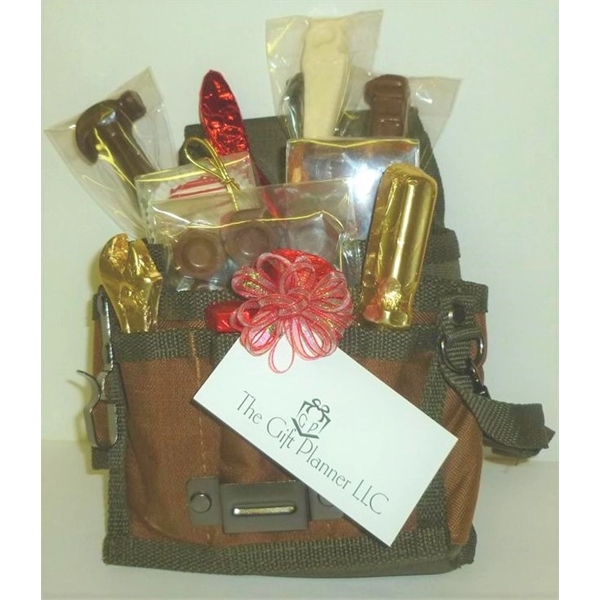 MODEL: TGP-CHTB
A Tool Pouch Filled with 3 Tool Pops:(1 milk chocolate, 1 white, 1 dark) - (hammer, saw, wrench), 1 Foiled Pliers (2-oz),1 Bag of 2 foiled nuts 1 box: cinnamon toast pretzels, with 3 chocolate tools, 1 box: butter toffee peanuts and chocolate nuts and bolts, 1 box: 2 dipped Oreos with little tools, 1 foiled wrench, 2 foiled bolts and 1 foiled screwdriver. This is a durable 600Dpoly material toolbelt. This is a perfect client gift or holiday gifts for construction companies, contractors, and builders. Themed for your company with your choice of tools that best represent your industry and company. Customize this gift with your choice of edible decorations and bow color. Imprint your logo and design using your corporate colors. Industry themed gift for 1 person or office!
| | |
| --- | --- |
| 1 | $85.99 |
| 25 | $84.99 |
| 50 | $83.49 |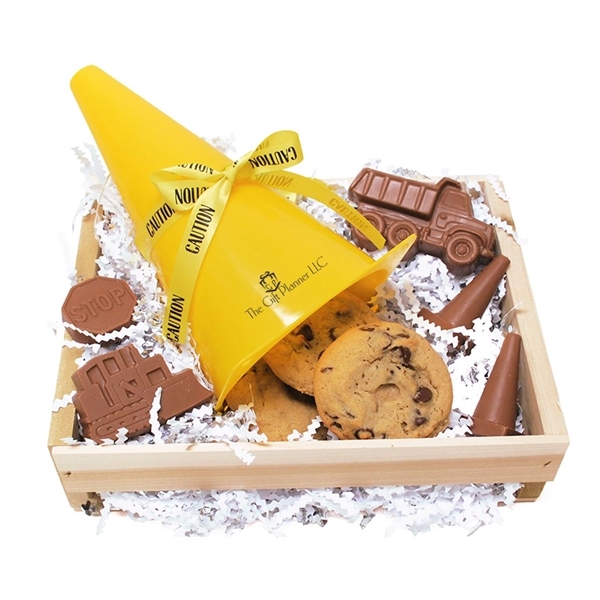 MODEL: TGP-CCSC
A wooden crate filled with a safety cone theme for any contractor or construction worker. 5 pieces of chocolate construction tools and 6 soft and chewy chocolate chip cookies inside a crate measuring 9 inches x 10 inches. A 10" safety cone available in orange or yellow which can be imprinted with your logo. All tied together with yellow caution ribbon to give you the perfect construction themed corporate gift! Brand new in 2019 perfect for Christmas holiday gifts, client gifts and thank you gifts!
| | |
| --- | --- |
| 1 | $49.99 |
| 25 | $49.49 |
| 50 | $48.99 |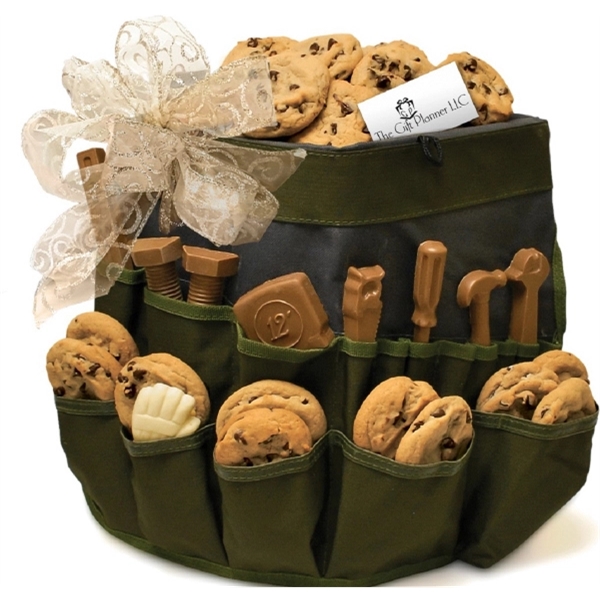 MODEL: TGP-BBD
The Gift Planner introduces the Bucket Bag Deluxe. This 5 gallon bucket holder can be customized with your logo silkscreened on the bag or your logo and message with a hang tag or gift card! Filled with 60 delicious soft and chewy cookies and a variety of 20 chocolate themed tools of your choice to represent your company and industry. Includes the 5 1/2 gallon bucket. Perfect industry themed gift for construction workers and any contractor or handyman. Share this with your favorite client, send as a thank you gift, or perfect for a holiday gift to be shared by all! Available without the bucket for $129.99
| | |
| --- | --- |
| 1 | $149.99 |
| 25 | $147.99 |
| 50 | $145.99 |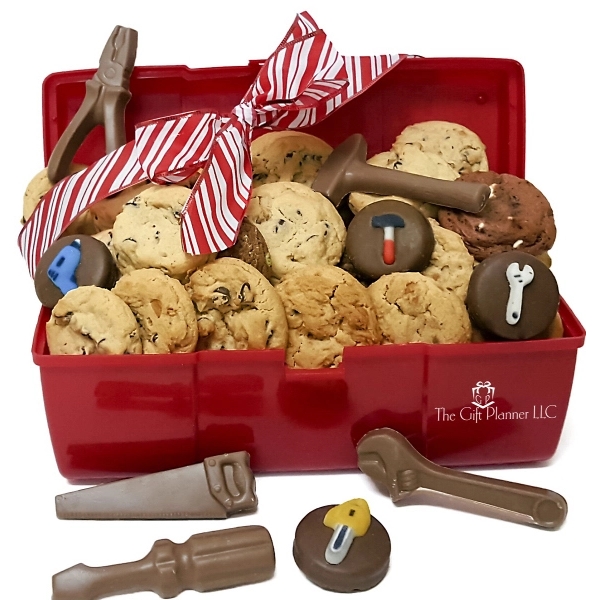 MODEL #: TGP-CCC
The Gift Planner Corporate Construction Cookie And Chocolate Toolbox ships open as a gift basket and is filled with an assortment of 30 delicious chewy assorted cookies: double chocolate, chocolate chip, peanut butter, m and m, white chocolate and cinnamon, 4 decadent chocolate covered oreos with an assortment of construction themed sugar tools and 5 - 12 ounce milk chocolate construction tools in a re-usable red plastic toolbox and measures 12 1/2" X 5 1/2" x 5" when closed and 12 1/2" x 5 1/2" x 13 1/2" when open.
| | |
| --- | --- |
| 1 | $69.99 |
| 50 | $68.99 |
| 100 | $68.49 |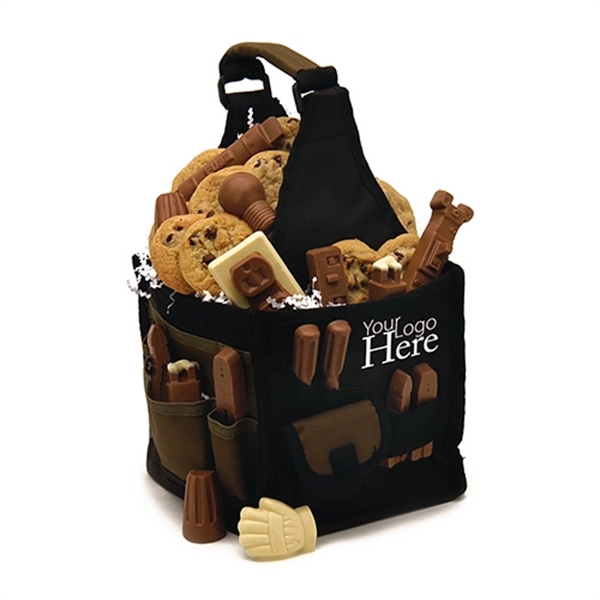 MODEL: TGP- Elec-TB
A one-of-a-kind electrical themed tool bag! This electricians tool bag comes filled with delicious electrical themed chocolate tools and soft and chewy chocolate chip cookies. The tool bag can be silk screened, but required a 2 week lead time. We can offer a hang tag or message card with your logo as well. This gift is not only delicious, but useful too! Great corporate Christmas holiday gifts, thank you gifts, client gifts and more!
| | |
| --- | --- |
| 1 | $84.99 |
| 25 | $83.99 |
| 50 | $82.99 |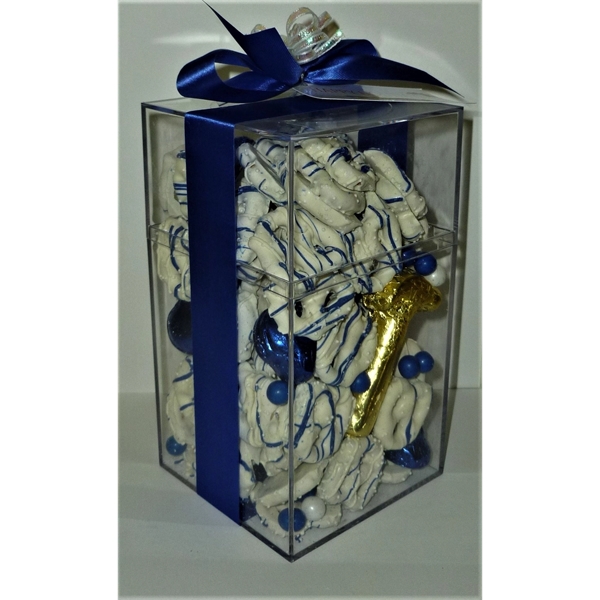 ITEM #:TGP-Cube
A clear cube filled with chocolate dipped pretzels drizzled in your corporate colors. Your choice of themed chocolate tools of the trade foiled in your colors and more! Personalize this gift with your logo and message and choose your ribbon color! A great corporate business gift for your favorite clients. A great themed gift for corporate holiday gifts or thank you gifts to show your appreciation.
| | |
| --- | --- |
| 1 | $49.99 |
| 25 | $49.49 |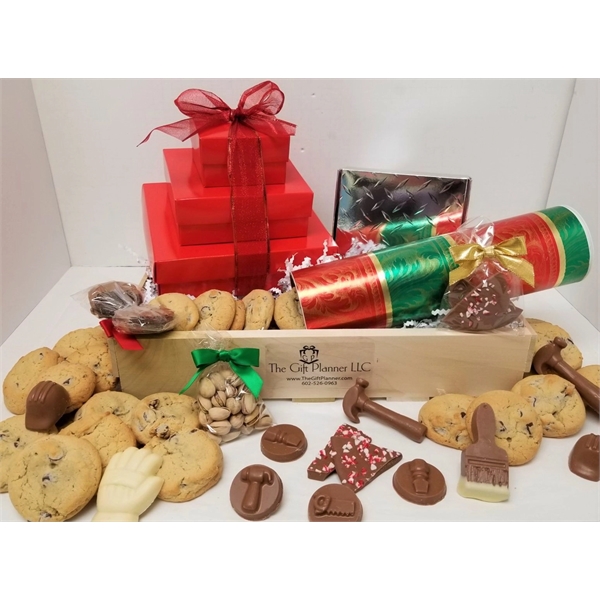 ITEM #:TGP-CAC
A construction themed gourmet corporate wooden crate gift basket. Wooden crate measures 14 inches x 9 inches. Filled with 9 oz. of milk and white chocolate themed construction tools, A themed roll filled with 10 delicious gourmet cookies, 3 stack gift tower filled with 4 oz. pistachios, 2 chocolate covered Oreos, 2 oz. peppermint bark, 6 assorted 1 ounce milk chocolate and white chocolate construction themed pieces, 1 dozen gourmet chocolate chip cookies. A diamond plate gift box filled with 4 more assorted 1 ounce milk chocolate construction themed pieces. Perfect gifts from construction companies, contractors, builders and the handyman. Send this themed gift to your favorite customer or client. Makes a great holiday gift, thank you gift or a themed gift that represents your company.!
| | |
| --- | --- |
| 1 | $102.99 |
| 25 | $101.99 |
| 50 | $99.99 |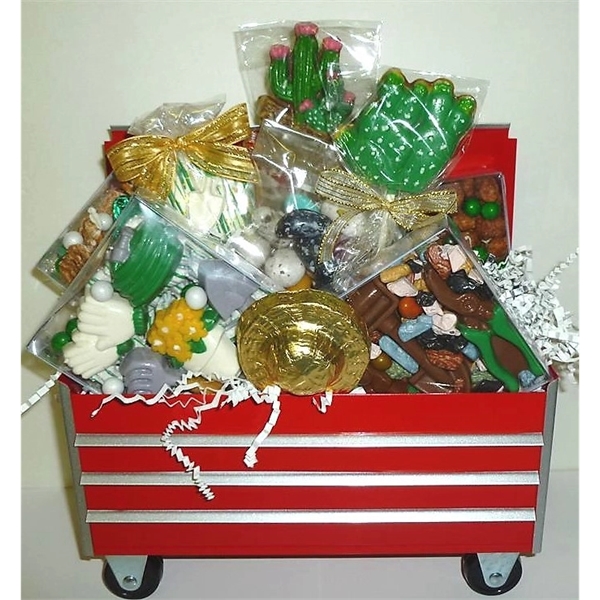 ITEM #:TGP-Landscape
A Landscaper themed toolbox makes the perfect corporate themed gift. Toolbox measures 9.5 inches x 4.5 inches x 4.5 inches and is all metal. This adorable desktop replica of the mechanic's rolling toolcart is overflowing with Dipped and decorated pretzels, 5 landscape novelties, 3 Milk chocolate tools (2 painted) plus chocolate rocks, Butter Toffee Peanuts, foiled chocolate seed packet, edible pearls, Cinnamon Toast Pretzels, foiled chocolate seed packet, edible pearls, Jelly Bean Rocks, Dipped Oreo Cookie with landscape novelty shape layon, 2 Cactus Shaped Chocolates, 1 Foiled chocolate landscape novelty piece. A perfect way to say thank you to a client or customer! These make great industry themed holiday gifs.!
| | |
| --- | --- |
| 1 | $109.99 |
| 25 | $108.99 |
| 50 | $107.99 |