Elevate Virtual Events with Thoughtful Gift Ideas
Surprise and delight your online attendees and prospects. We are in a new era of zoom meetings and virtual company events, so let The Gift Planner help your company with virtual gift ideas and promo items to help your company stay engaged with current and new clients.
How The Gift Planner can help with your next virtual meeting or conference
Gift-giving looks different post COVID. It requires a new way of connecting and promoting your business, virtually. The Gift Planner can help you get creative. Let's re-establish that human connection by designing something personal and unique for your clients and employees.
What are the best gifts to send digitally, when you can't be with them physically? How about a brand-new customized themed gift? Our specialty is to create your company an industry themed gift that is both useful AND delicious. We want them to know who you are and what you do!
BRAND NEW GIFT IDEAS CUSTOM MADE FOR YOUR BUSINESS
Chocolate N Cookie Bucket Bag Delight

A 5-gallon Husky bucket bag gift basket! This gourmet chocolate tools and cookie gift makes the perfect gift for the construction industry and any other contractor or trade! A variety of 60 delicious cookies and 20 chocolate tools of the trade! Customize this gift with you personal gift message and logo! Included with the gift is the 5 gallon bucket. A great gift for the entire office as a thank you gift or holiday gift.
PRICING
Legally Delicious Gourmet Chocolate Briefcase Gift Box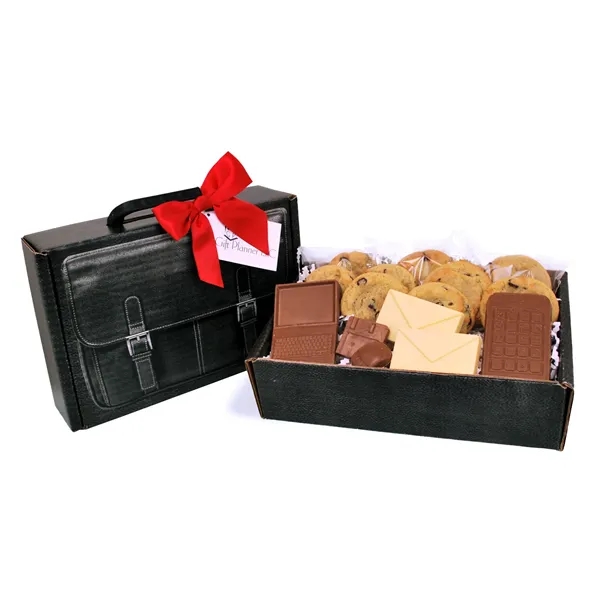 An 11" x 7 " x 3" reusable briefcase box filled with over 1 lb. of chocolate chip cookies and 1/2 lb. of delicious premium themed milk chocolate. 12 soft and chewy chocolate chip cookies, 1 milk chocolate laptop, 1 milk chocolate iPhone, 2 white chocolate envelopes, 2 milk chocolate mouse and 2 milk chocolate "save" icons. All wrapped up with a red bow around the handle! These make the perfect holiday gifts, thank you gifts or other corporate events and occasions. Personalize your gift to represent your company!
PRICING
Chocolate Tool Box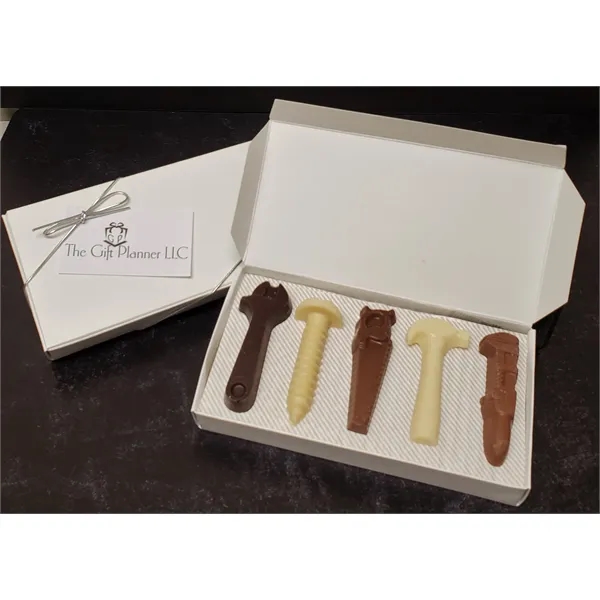 A custom gift box with 5 themed chocolate tools of the trade! Delicious chocolate tools in dark, white and milk chocolate. Customize this gift box with your company logo or message! A simple thank you gift or themed gift for any special occasion or corporate event! The Gift Planner has the right tools to get you noticed! If you are on a budget these gifts are the perfect holiday gift to say thank you and show appreciation.
PRICING
Create A Crate Chocolates And Cookie Safety Cone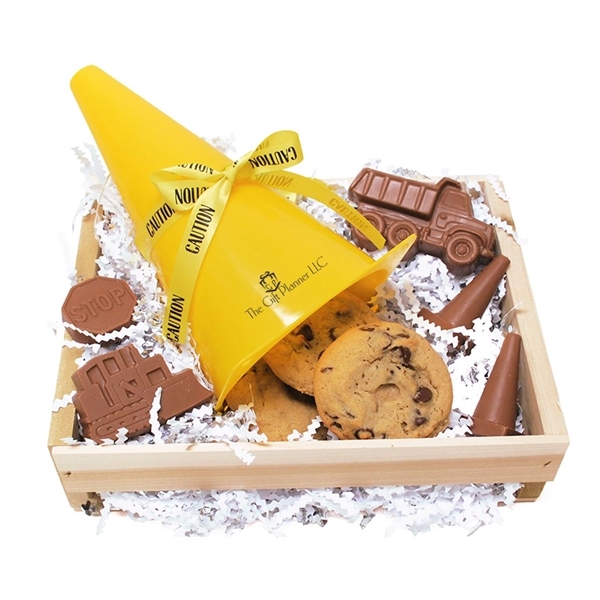 A wooden crate filled with a safety cone theme for any contractor or construction worker. 5 pieces of chocolate construction tools and 6 soft and chewy chocolate chip cookies inside a crate measuring 9 inches x 10 inches. A 10" safety cone available in orange or yellow which can be imprinted with your logo. All tied together with yellow caution ribbon to give you the perfect construction themed corporate gift! Perfect for Christmas holiday gifts, client gifts and thank you gifts!
PRICING
Corporate Construction Cookie And Chocolate Toolbox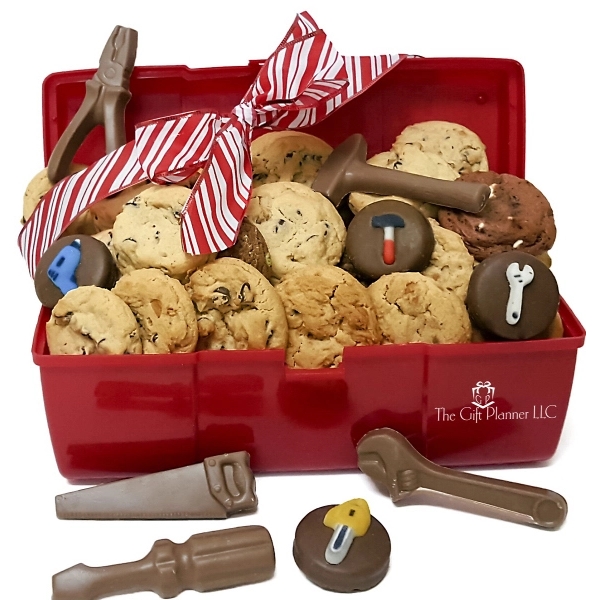 Ships open as a gift basket and is filled with an assortment of 30 delicious chewy assorted cookies: double chocolate, chocolate chip, peanut butter, m and m, white chocolate and cinnamon, 4 decadent chocolate covered oreos with an assortment of construction themed sugar tools and 5 - 12 ounce milk chocolate construction tools in a re-usable red plastic toolbox and measures 12 1/2" X 5 1/2" x 5" when closed and 12 1/2" x 5 1/2" x 13 1/2" when open.
PRICING
Custom Chocolate Covered Oreo Gifts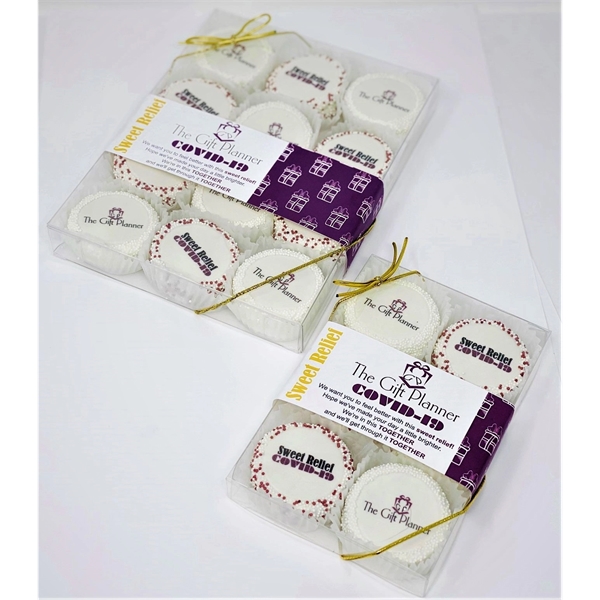 Chocolate Covered Oreo Gift Box Of 6. Oreo cookies come with logo or message and gift box of 6 includes a branded custom sleeve. 6 white chocolate dipped Oreo cookies designed with your edible logo or message using a 4 color process and finished with custom sprinkles in your choice of color(s). These are the perfect corporate business gifts for your favorite customers or a great holiday gift to send to your clients.
PRICING
Contractors Cookie and Chocolate Tools Lunchbox Toolbox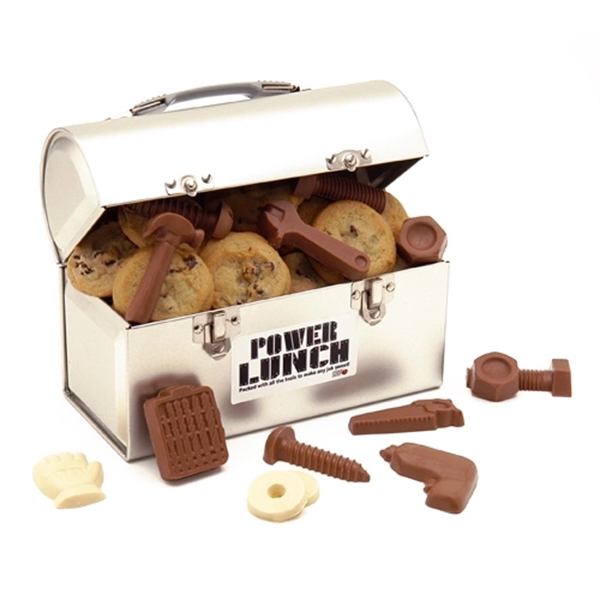 An Old Fashioned Retro Style Metal Lunch Box measuring 10 inches x 7 inches x 4 inches. Filled with 18 Delicious Cookies and 5 Pieces of Chocolate Contractor Themed Tools Of The Trade. Personalize this retro style lunch toolbox with your logo.
PRICING
Need something custom or personalized? Just ask!
It's a great idea to engage with your attendees both before and after any virtual conference event. Think about items that attendees can use during your online event or have as a keepsake throughout the year. Some trendy popular items consist of
travel mugs
,
power banks
,
baseball caps
, and other
tech type gifts
. And, of course, The Gift Planner one-of-a-kind exclusive gifts. All of these gift ideas can be customized and delivered ahead of time. Sending swag after the conference is another great way to keep the relationship going, and it gives your sales team an excuse to follow up with attendees.
We are experts at creating the most personalized gift that suits your business and creates the best buzz for your brand. For more ideas check out our store, or simply contact us today to get started! You can
email us
, call us at (602) 526-0963 or shop our
online store
.
If you can imagine it, your personal gift planner can deliver it! We can find you any item you are looking for and if need be, we can create your company the perfect gift! Our motto is let us make your dreams become a reality!