Great Gift Ideas For Any Corporate Event, Holiday or Special Occasion in 2022
Are you wondering why you should send your client a corporate gift?
Because it gets your brand in front of them and makes them feel valued and appreciated. It's an honest thank-you for their business. A small expression of gratitude can make a huge difference in your relationship with your client or employee.
What makes a great corporate gift?
Something that is thoughtful and personalized; something that shows you care about their business. If possible, choose something unique to their hobbies or interests. Remember, your gift doesn't always have to be for a holiday. Surprise and delight them "just because". You'll stand out and stay on their mind for a long time. A corporate gift can be two-fold. Both useful and delicious. Let your gift tell your story and explain what your company is all about!
Don't forget the importance of wrapping and packaging. The first thing your client or employee sees is the gift wrapping, and this is your chance to "wow" them. The Gift Planner can design something special just for your company.
Our expertise is in customizing the perfect gift that represents who you are and what you do
.
Let The Gift Planner be a part of your team! We can personalize your gift for ANY industry or field, while promising the best prices, quality and customer service! For a specific business or trade, check out our huge selection of gifts
for any industry.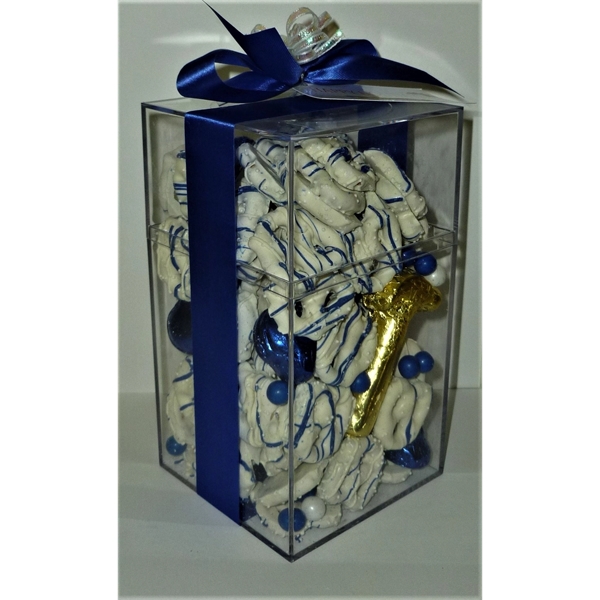 MODEL: TGP-Cube
A clear cube filled with chocolate dipped pretzels drizzled in your corporate colors. Your choice of themed chocolate tools of the trade foiled in your colors and more! Personalize this gift with your logo and message and choose your ribbon color! A great corporate business gift for your favorite clients. A great themed gift for corporate holiday gifts or thank you gifts to show your appreciation.
| | |
| --- | --- |
| 1 | $54.99 |
| 25 | $53.99 |
| 50 | $52.99 |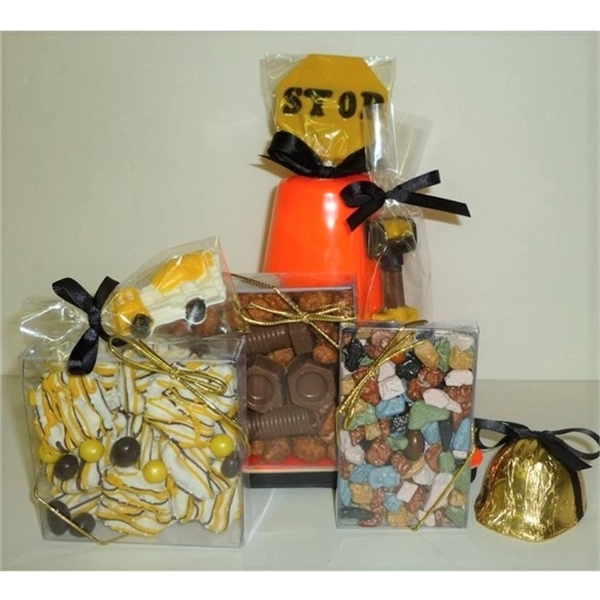 MODEL: TGP-STC
Get in the zone with a delicious chocolate gourmet construction themed safety traffic cone. The Gift Planner Chocolate Zone Construction Safety Cone comes with a 6 inch base x 6 inch high traffic safety cone, dipped pretzel box, nuts and bolts box, chocolate rocks box, foiled chocolate hard hat, cement OR dump truck, chocolate stop sign and chocolate shovel. This adorable construction themed gift can have caution ribbon or imprinted ribbon in your choice of color. Wrapped in cello and tied with any bow color you choose. Choose your bow, ribbon and edible decoration colors to match your corporate colors. This delicious and adorable gift basket makes a perfect holiday gift, thank you gift or client gift. Various imprinting options that best highlight your logo and company!
| | |
| --- | --- |
| 1 | $64.99 |
| 25 | $63.99 |
| 50 | $62.99 |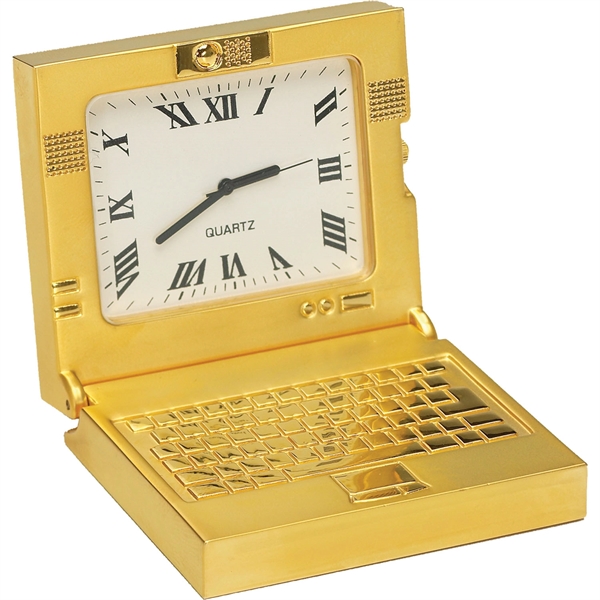 MODEL: 730L
Make your business stand out from the crowd with this amazing clock! It measures 1 1/4" x 2 1/2" and is made of metal with gold die cast into the shape of a laptop. This is a unique way to tell time and the perfect way to advertise a business in the technology industry. Add your company name or logo and give this to clients to sit on their desks at work. This is great for grabbing a lot of attention. Get more people to know about your brand!
| | |
| --- | --- |
| 10 | $24.02 |
| 50 | $21.94 |
| 100 | $20.38 |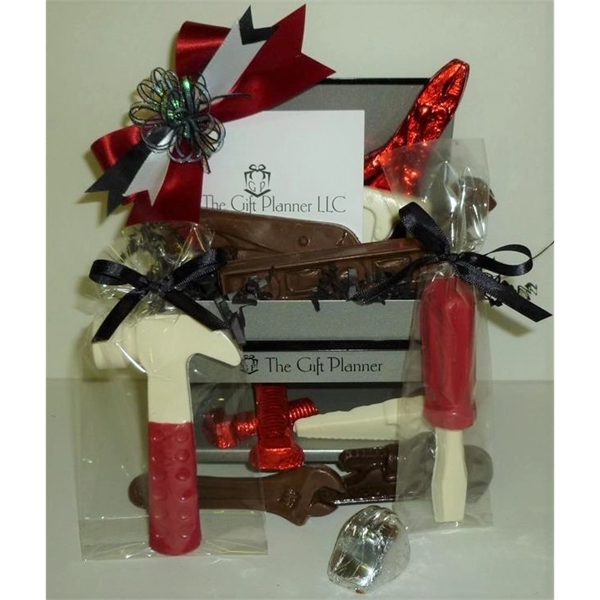 MODEL: TGP-TOOLWB
An adorable desktop construction or contractors miniature work bench gift basket. This work bench measures 6 inches wide x 4 inches deep x 4.5 inches high. Filled with a delicious combination of white, milk and dark chocolate tools. Includes foiled milk chocolate bolts, 7 assorted chocolate tools, 1 foiled milk chocolate hard hat, 1 foiled wrench, 1 (painted) white chocolate hammer, 1 (painted) white chocolate screwdriver. Wrapped in cello with custom color ribbon and bow. This work bench can be themed to your company and industry with your logo and in your corporate colors. 13 pieces of delicious chocolate tools. Great industry themed gifts for contractors, construction companies or builders.
| | |
| --- | --- |
| 1 | $69.99 |
| 25 | $68.99 |
| 50 | $67.99 |
MODEL: 6514
Our dynamic awards are more than just prizes, they are unique and artistic presentations that recognize significant achievement, dedication, hard work, public service, and other aspects of your brand, company, social cause or organization. Bring our Georgetown award home! This 7 1/4" or 8 1/2" crystal trophy features a facade design with a triangular roof, front piece and stairs. It's a great match for educational or business honors and ceremonies. Create a custom accolade that combines our top quality materials and construction with your logo, emblem, message, artwork and other flourishes to build an honor that will be remembered for years to come.
| | |
| --- | --- |
| 1 | $443.00 |
| 5 | $392.00 |
| 20 | $379.00 |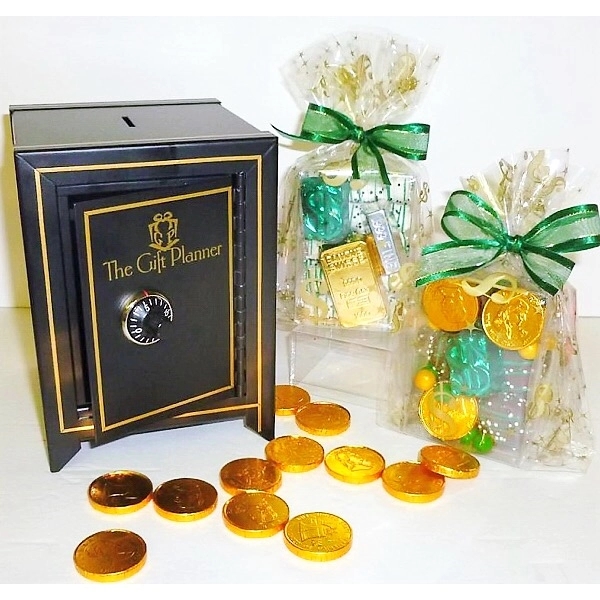 MODEL: TGP-SAFE
The Gourmet Chocolate Financial Themed Money Safe is made of all metal.This miniature desk top safe can be personalized with your logo. features a coin slot, a three number combination lock and looks like an old antique safe. Measures 4.25" x 4.5" x 6". Powder coated which insures long lasting durability. The Safe is filled with 2 money themed treat boxes wrapped in dollar sign pattern cello. First box filled with 12 mini dark chocolate mint flavored Oreo cookies with 1 milk chocolate foil dollar sign and 3 gold foiled milk chocolate coins. Milk chocolate candy coated "pearls" for filler. Second box filled with 10 mini white chocolate dipped pretzel logs packaged with 1 gold foiled chocolate gold bar, 1 silver foiled .999 fine silver bar and 1 green foiled milk chocolate dollar sign.
| | |
| --- | --- |
| 1 | $84.99 |
| 25 | $83.99 |
| 50 | 82.99 |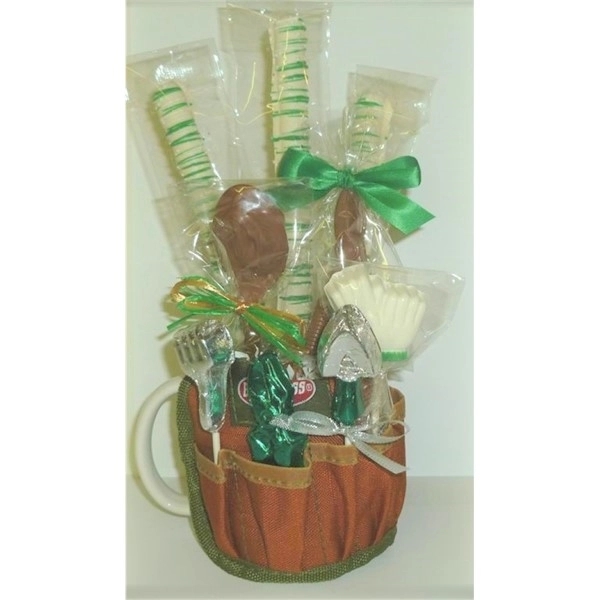 MODEL #: TGP-LMUG
Landscaper Gourmet Chocolate Toolbelt Mug Holder makes a great corporate office gift! 3 Dipped Pretzel Rods, 1 Chocolate Stirring Spoon, 5 Chocolate tools (3 foiled, 1 painted, 1 bag with bow) fill the mug and pockets. This ultimate desk organizer toolbag coffee mug makes the perfect Industry themed gift. Made for contractor's, construction companies, builders and handymen. These adorable coffee mug gifts are great for corporate holiday gifts, client gifts or thank you gifts. Use your corporate colors on ribbon, bows and foil wrap. Select the chocolate tools that best fit your industry and add that final touch with your logo on imprinted ribbon or a hang tag.
| | |
| --- | --- |
| 1 | $54.99 |
| 50 | $53.99 |
| 100 | $52.99 |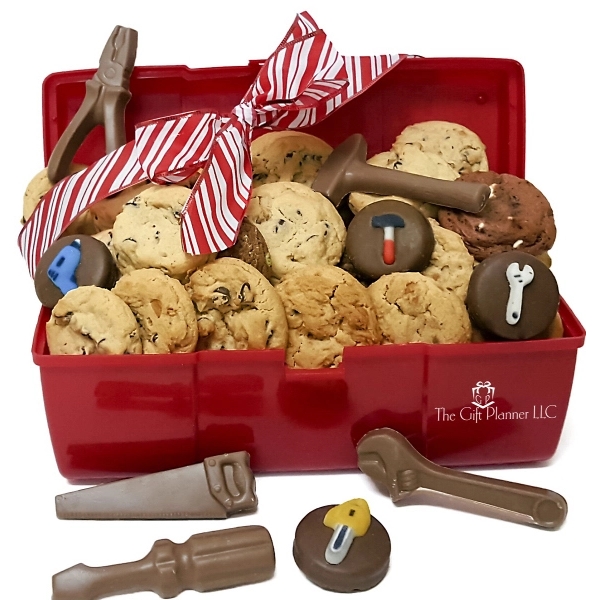 MODEL: TGP-CCC
The Gift Planner Corporate Construction Cookie And Chocolate Toolbox ships open as a gift basket and is filled with an assortment of 30 delicious chewy assorted cookies: double chocolate, chocolate chip, peanut butter, m and m, white chocolate and cinnamon, 4 decadent chocolate covered oreos with an assortment of construction themed sugar tools and 5 - 12 ounce milk chocolate construction tools in a re-usable red plastic toolbox and measures 12 1/2" X 5 1/2" x 5" when closed and 12 1/2" x 5 1/2" x 13 1/2" when open.
| | |
| --- | --- |
| 1 | $69.99 |
| 50 | $68.99 |
| 100 | $68.49 |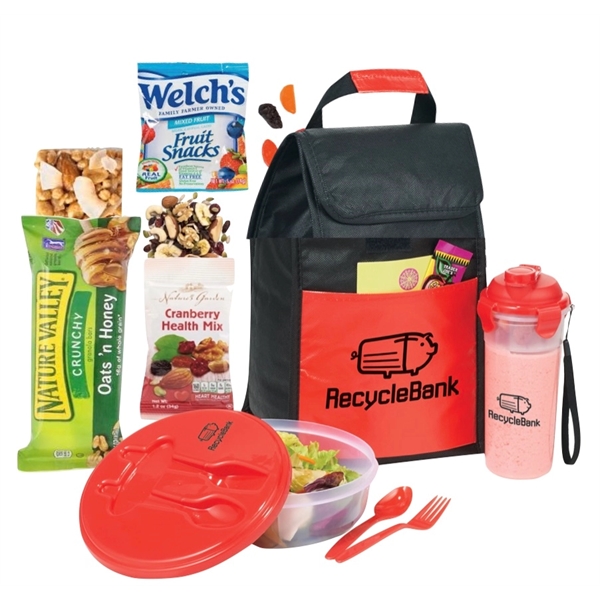 ITEM #:SGGBC6
Lunch Cooler Gift Set features an open main compartment with a hook and loop flap closure and a top carry handle along with front pocket, a beverage shaker (16oz.) and a salad/food container plus granola bar, trail mix and fruit snacks all tucked inside. Non-woven. Cooler wrapped in cello and tied with a bow. Full color hang tag and drop shipping options available. All three pieces are decorated for 1 setup and one run charge. BL Additional Information Build Your Own to select from over 80 different snack and beverage items to customize your own kit. Send us your own inserts too. Fulfillment services available along with full color hang tag and drop shipping.
| | |
| --- | --- |
| 60 | $24.97 |
| 300 | $24.65 |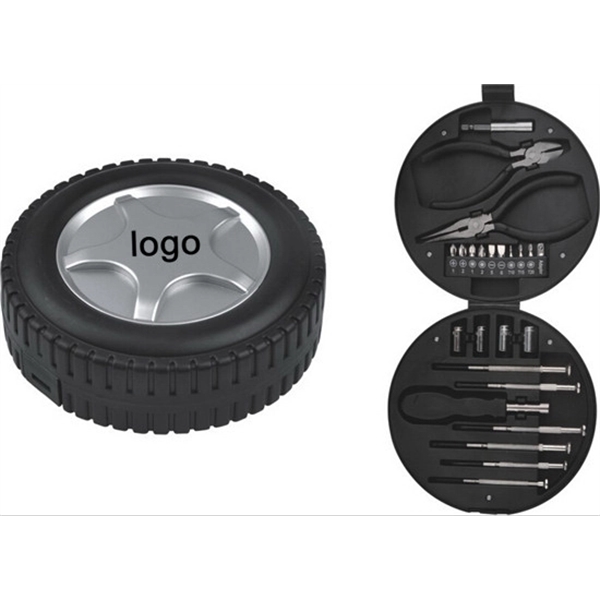 ITEM #:BSH243
You'll get great "traction" during your campaign with the tire-shaped tool set! Featuring an appealing tire shape, this handy tool set contains 2 pliers, 10 screwdrivers, 6 clock screwdrivers and 4 sleeves.This favor is perfect for promoting your brand at any conference or event. Your logo or brand is welcomed to be customed!
| | |
| --- | --- |
| 1,000 | $14.59 |
| 2,000 | $14.45 |
| 3,000 | $14.33 |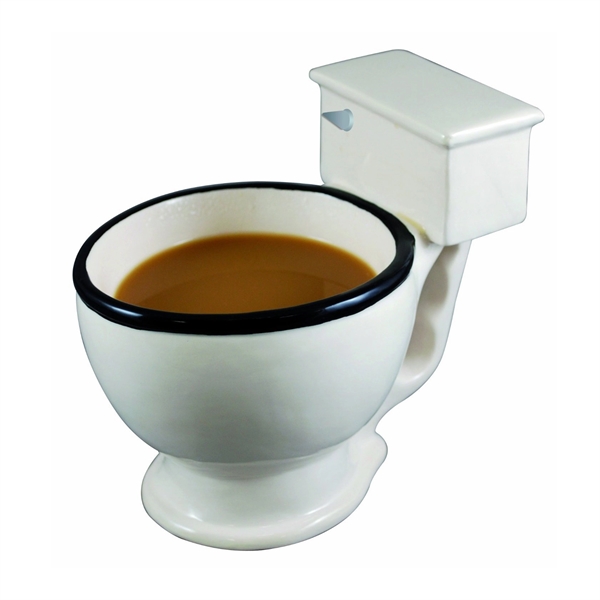 ITEM #:FRL263
A cup of coffee for when you are tired? This unique cup looks like a toilet, but is more attractive. It's not only a cup, but also an entertaining toy. Available in black and white for adding your logo/company message. Mug color is customizable as requested. This useful and attractive item could be an ideal giveaway for any promotion!
| | |
| --- | --- |
| 500 | $5.53 |
| 1,000 | $5.32 |
| 2,000 | $5.11 |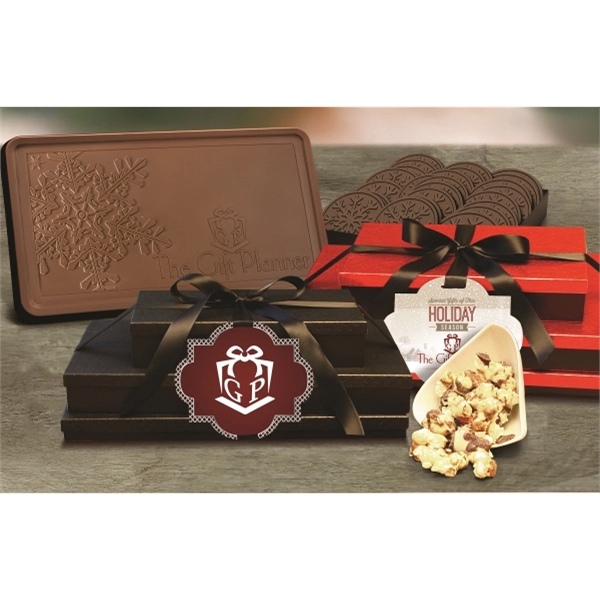 ITEM #:8003
The Gift Planner custom gift towers are a cut above the rest and will make you stand out and look good. Set yourself apart from everyone else with a full custom gift tower with your branding. Our new 3-Piece Towers include funky chunky popcorn with pecans, 24 3.2" sugar cookies topped with Belgian dark chocolate engraved with a festive snowflake OR Thank You design. Snowflake cookies are each individually packaged in a silver "Let it Snow" wrapper. Thank You cookies are individually packaged in a silver wrapper with Thank You repeated in different languages and 2 lb bar of pure Belgian milk or dark chocolate engraved with your custom artwork/logo. Choose red, gold, silver, black or white box lids with our new full-color, custom printed tower gift band.
| | |
| --- | --- |
| 20 | $73.45 |
| 50 | $71.90 |
| 100 | $70.30 |