Real Estate Closing Gifts and Giveaways
Search from HUNDREDS of promotional items for Realtors.

Do you have an idea for a special giveaway? We'll turn it into a reality. Our personalization experts will make your promotional items look like they were made exclusively for YOUR COMPANY and BRAND.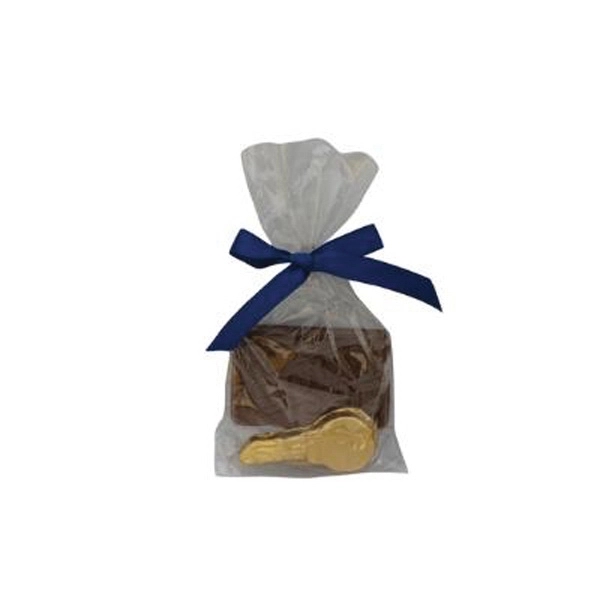 MODEL: KIT80012
Make closing a sweet deal! 0.96 oz. Clear cello bag filled with 1 chocolate candy foil wrapped key and 1 chocolate candy "For Sale Sold" real estate sign. Mix and match chocolate candy flavors for no additional charge. Coordinate the ribbon color with your theme or corporate colors. Price includes 4 color label applied to the bag. Makes a great home builder, real estate, realtor, mortgage, or title company promotional giveaway. Dimensions: 3" L x 5" H x 0.5" W.
| | |
| --- | --- |
| 50 | $4.99 |
| 100 | $4.74 |
| 250 | $4.50 |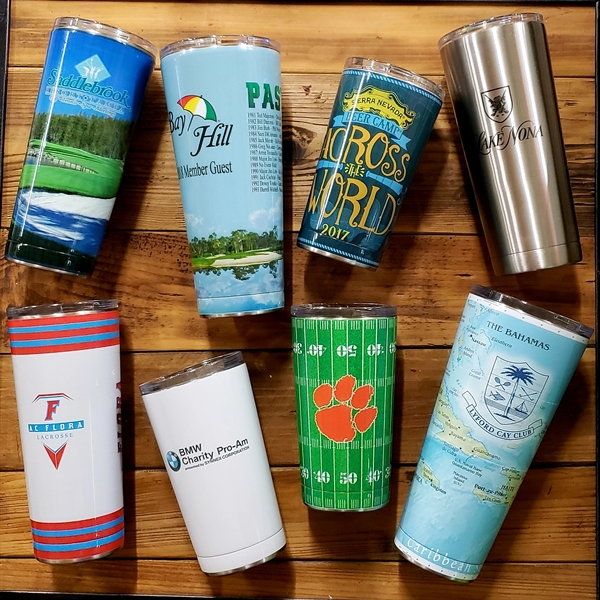 MODEL: STCH1801
Double-walled, vacuum insulated, stainless steel tumbler. BPA free. Lead free. Includes plastic lid with straw hole. 360 degree, high resolution photo quality printing to customize for any occasion. All CMYK colors available for backgrounds and logos, with the ability to match customer brand standards. Our cups are perfect for any occasion: Graduation, Booster fundraising, teacher gifts, personalized player gifts for team sports, real estate closing gifts, Mother's/Father's Day gifts, end of year employee gifts, service recognition awards, golf tournament tee gifts, event swag, fraternity/sorority functions (Collegiate and Greek licensing), corporate promotions of any kind.
| | |
| --- | --- |
| 25 | $18.75 |
| 100 | $17.75 |
| 250 | $16.75 |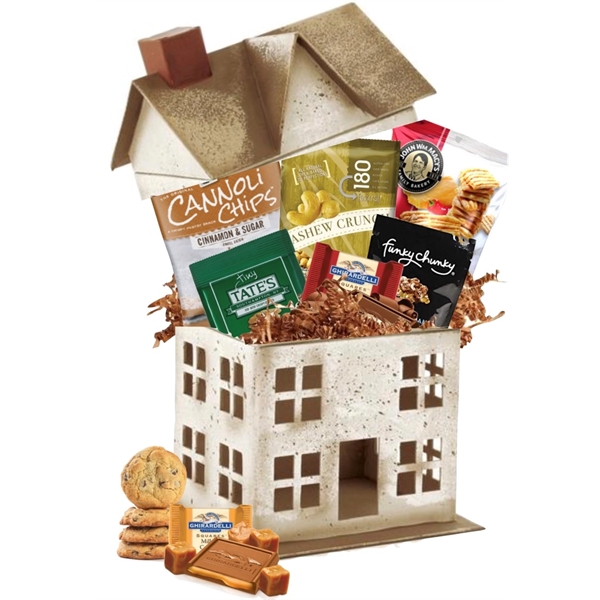 MODEL: 1891601
A warm welcome home. House shaped box filled with a variety of savory snacks. Includes cookies, cashew crunch, gourmet popcorn, cheese straws, cannoli chips, and chocolate. Each basket if carefully wrapped and tied with bow. Can be shipped bulk or to individual addresses on your gift list. Custom gift card available printed with your message and logo. We'll customize a food basket to fit your budget and event needs.
| | |
| --- | --- |
| 48 | $47.99 |
| 144 | $45.00 |
| 300 | $39.97 |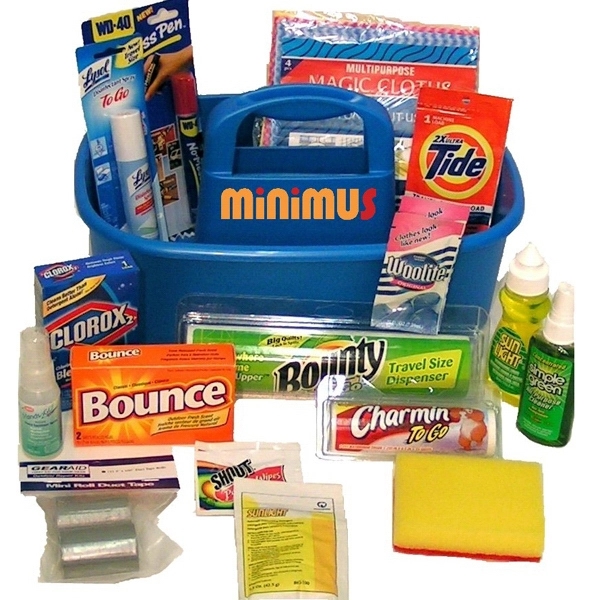 MODEL: KD085
The Deluxe House Warming Welcome Gift Kit contains 18 preselected items. Customize contents, choose from over 2000 trial and individual sized name brand items, example kit shown. Contact our kit customization experts to work with you to create a customized kit choosing from dozens of packaging and decoration options we warehouse in stock. Kit can be created to meet any budget requirements. Let us use our experience to design a unique item.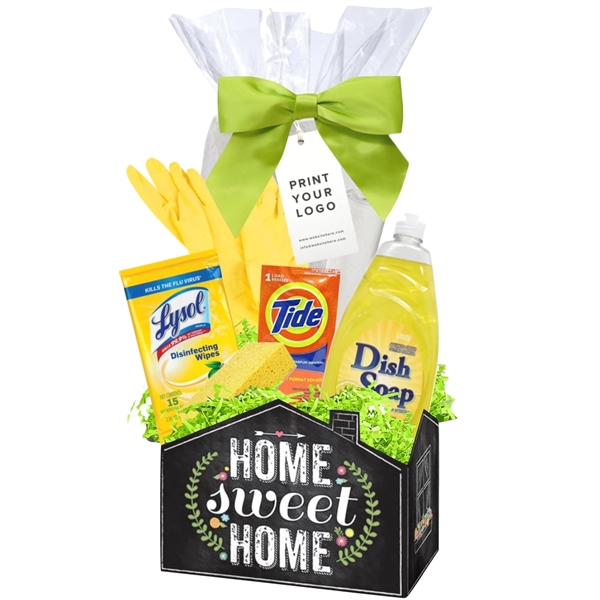 MODEL: 19010503
Our Clean-up Kit is perfect for kitchen and bath. Includes a roll of paper towels, dish soap, set of gloves, laundry detergent for one load, cleaning wipes, garbage bag, and sponge all bundled in Home Sweet Home basket with clear cello and tied with a bow. Includes a full color hang tag, printed with your logo and welcome message. Choose from a variety of New Home Basket designs and we can customize a New Home Kit to fit your budget, packaging and event needs.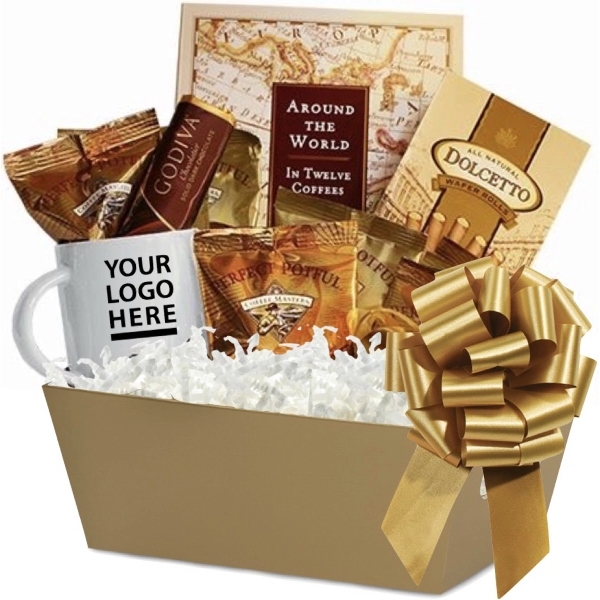 MODEL: 1712312
Branded Mug, Coffee, Cookies, and Chocolate all in one fabulous basket. Includes twelve of the finest Arabica coffees packaged in freshly ground, pre-measured coffee packets. Each packet will brew up to 10 cups of fabulous coffees which includes Brazil Santos, Colombian Supremo, Costa Rican Tarrazu, Ethiopian Harrar, Guatemalan Antigua, Honduras, Kenya AA, Mexican Altura, Nicaraguan, Paua New Guinea, Sumatra Mandeling, and Tanzanian Peaberry. Packaged in basket tray with cookies, Godiva chocolate and custom keepsake coffee mug. Each basket is wrapped in clear cello and tied with bow for a gift presentation. Can be customized to fit your budget and event needs. Shipped bulk or to individual addresses. Full color gift card available to include your message.
| | |
| --- | --- |
| 48 | $64.97 |
| 96 | $63.24 |
| 144 | $59.97 |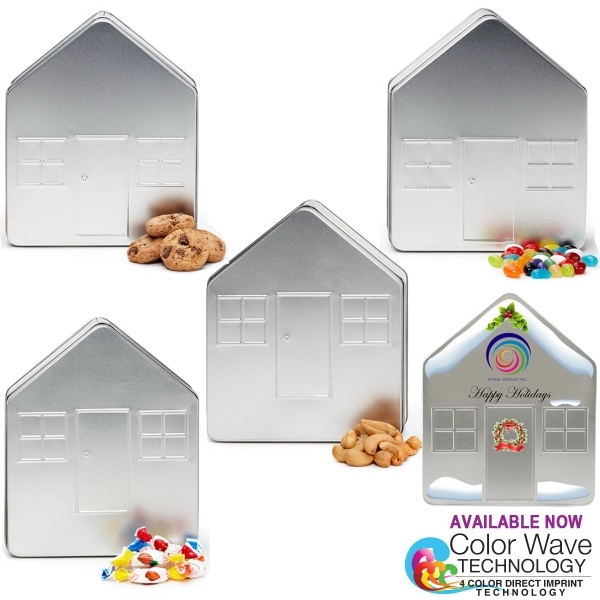 MODEL: HOT-Cookies
This large house shaped tin box measures 7 1/2" x 6 1/4" x 2" and comes filled to the brim with delicious cookies. This is perfect as a holiday gift or for real estate agents to set out during a showing. Even after the treats are all gone, it's still reusable! Add your company name or logo to this using one of our multiple imprinting methods.
| | |
| --- | --- |
| 64 | $10.75 |
| 128 | $10.00 |
| 256 | $9.50 |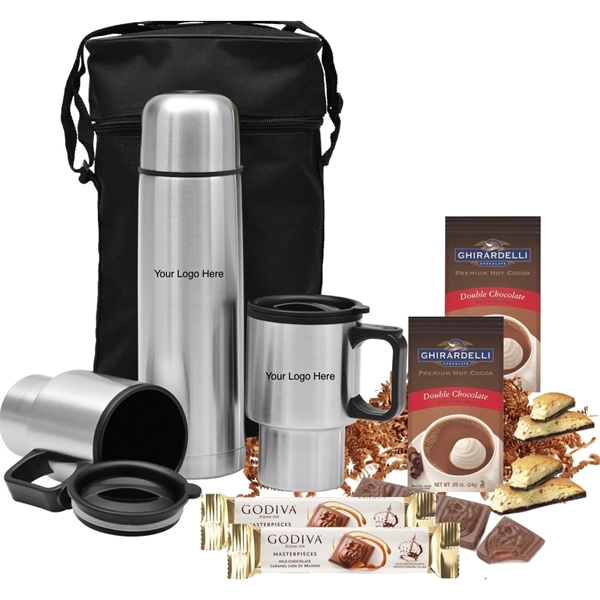 MODEL: 1911005
Handy zippered carrying case filled with 1-vacuum insulated hot beverage carrier, 2-stainless steel travel mugs, Ghirardelli Cocoa Packs, Godiva Chocolate Bars, and Biscotti Cookies. Each carrying case is wrapped in clear cello & tied with a bow for a gift presentation. Can be shipped bulk or to each individual on your gift list. Full Color gift card available, printed with your design, message and logo.
| | |
| --- | --- |
| 48 | $64.97 |
| 144 | $59.97 |
| 300 | $57.99 |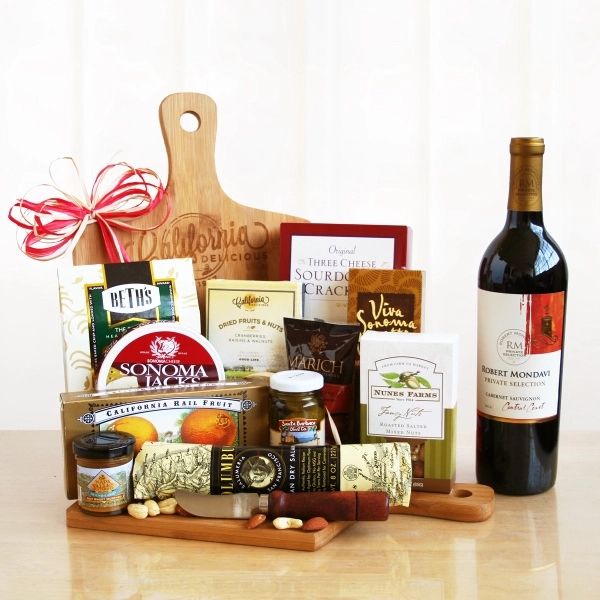 MODEL: 46042
Uncork the bottle of smooth Robert Mondavi central coast cabernet sauvignon and enjoy along with creamy Sonoma Jacks cheese, Three Cheese sourdough crackers, Nunes Farms roasted fancy nuts, Napa Valley hot and sweet mustard, chocolate chip cookies, California dried fruits and nuts, Marich chocolate covered cherries, Viva Sonoma biscotti, California Rail fruit candies, Santa Barbara olives, a Columbus dry salami, and a wood handle cheese knife. Size 16" L x 14" W x 6" H.
| | |
| --- | --- |
| 1 | $79.99 |
| 25 | $79.99 |
| 100 | $79.99 |